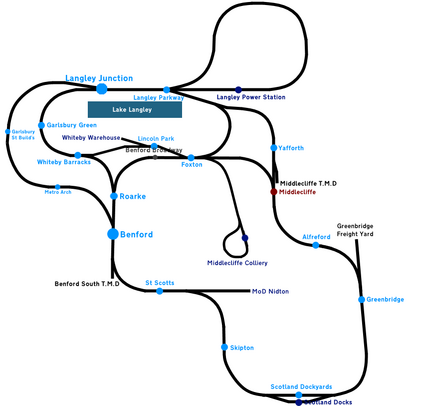 Welcome to the Destination: Benford Official Wiki
Destination: Benford is a UK Railway Simulation game developed by CarlPlandog.
DB is currently undergoing another large update known as "Destination Benford | The Northern Lines"
Group: https://www.roblox.com/My/Groups.aspx?gid=4474890
Game: https://www.roblox.com/games/462804186/Destination-Benford
Train Operating Companies
Current
Regional - Main provider of passenger services in DB.
DBRf - Main provider of freight services in DB.
Planned
CentRail - Passenger TOC to provide services in the vicinity of Fordcastle.
Express - Passenger TOC, which obviously by the name will be providing fast services on the upcoming mainline.
Past
DP Cargo - Formerly the company that provided the majority of freight services in DB Remastered. Together with BRS it has merged onto a single company known as DBRf.
Benford Rail Services - Used to provide nuclear flask haulage services in DB Remastered. Has merged with DP Cargo to form DBRf.
Maritime - Used to haul intermodal trains to and from Scotland Docks. Has been replaced by DBRf.
Articles we recommend new players to read
About to play? Make sure you read this first.
Unfamiliar with British signalling and signs? This article is for you
Unfamiliar with British road signs? Want to find out more about traffic lights? This article is for you.
FAQ
Q - When will the game come out?
Answer: The game should be out by early 2021. Please don't beg us to open the game, as at the moment most of the map is empty. You'll be put off by it due to how it's unfinished and still buggy. We have lives too, you may probably not realise how hard it is to develop a big game.
Q - What are the new features in TNL?
Answer: I cannot say every single one of them in this answer, because then the answer would be too long of a read. There should be an article on TNL with all the features. But one of the most distinctive features is the new doors system. Doors are now animated, unlike changing transparency in Remastered, the Driver unlocks the doors and people have to press the open buttons on the train to open the doors. Guards will also come, they'll be able to operate the doors if you hire one, and also the Avantix Mobile has been added, letting guards issue tickets to passengers on a train. Another feature is Weather, which allows for a more realistic environment. Routing is another feature, with your route count tallied up on a board at the Spawn location. Compete with others!
Q - How big is this update?
Answer: The map is much larger than Remastered. Curves are also mostly longer to allow for freight. This update should make DB feel less like a model railway, and more like a realistic simulation.
Q - Are there are any new stations?
Answer: Yes! Langley Junction, Langley Parkway, Yafforth, Lincoln Park, Roarke, and Garlsbury St Builds
Q - Has the driving system changed?
Answer: Definitely. The design has changed, with a few new features, and looks more realistic overall. The acceleration and braking now depend on how far the handle is up or down. 2 new distinctive features have also arrived: the buzzer to communicate with the guard, and AWS. The braking and acceleration power has been increased. You can also get braked for speeding.
Q - What happened to the gamepasses?
Answer: They are now in a place owned by the DB group. This allows the staff to make more profit (which means staff get paid more for their work, which in turn leads to more motivation and therefore more updates). But don't worry if you've already bought gamepasses in Remastered, they still will be accepted.
Q - Are there any new trains?
Answer: Yes. CarlRail now has a new Class 950 and New Measurement Train. The Class 67 is now completely rebuilt. A few existing trains have also been rebuilt, the Class 153 and Class 156. Class 58s and Class 47s are also being introduced. A pacer has also arrived. There are more but they are secret ;)
Q - What year/time is this set in?
Answer: DB is not really set in any year. However it feels more fit to be set in the 21st century. Trains that have been scrapped in real life (such as Pacers) are still in operation.
CarlPlandog - Owner, Programmer, Game Host, Administrator
Newancient - Co-Owner, Programmer
BuiIdTheBuilder - Map Developer, Administrator
Eddiefan336 - Train Developer
SimulateDev - Train Developer
SimulationNetwork - Train Developer and Map Developer
BanSmh - Administrator
YeetusDeletus426 - Administrator
SlayerzPlays - Administrator
jr_jack - Administrator
HydraulicWires - Administrator
Contributors and others
hhwheat - Programming Help
ChuckXZ - Main Menu Music
FinnlayX - Former administrator.
WestCoastElectrics - Made the CentRail logo.
WintersonDeveloper - Former train developer, did some scenery.
Community content is available under
CC-BY-SA
unless otherwise noted.